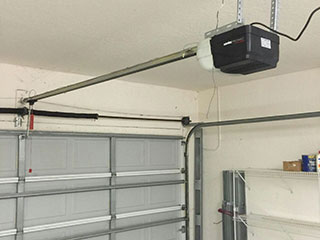 Craftsman is a major garage door opener manufacturer. The openers the company produces work with the trolley system and with belt or chain drive guides. The horsepower of their motor ranges from ½ hp to ¾ hp and they can be accompanied by various accessories, including internet connectivity for garage door opener operation from a distance. The Craftsman garage door opener might also include a backup battery and can be activated either by remote controls or keyless entry systems.
We Specialize in the Replacement and Installation of Overhead Garage Doors
The newest ¾ HPS Craftsman garage door opener integrates a die-hard-battery and will continue to work in case of power failure. It works with a belt drive system and has a DC motor for soft opening and closing. It has a timer-to-close for automatic door closure after a pre-set period of time, tri-frequency radio for avoidance of interference with other transmitters, an anti-burglary system which changes the code every time the clicker is used, and a lock system when the door is shut. It also features a wall panel for diagnostics and programming of the opener.
The ½ HP chain drive Craftsman garage door opener has advanced sensors and homeowners don't have to rush in their garage since the door will close automatically once they are inside. This model comes with two remote controls with anti-theft code technology and can open the door from inside the car. Craftsman offers high tech opener options with security, convenience and safety features. It offers quality and warranties for all its products.